I was supposed to be out practicing maneuvers -- I went sightseeing instead! Tuesday, 10/22/02 was a beautiful day. I had a reservation for Piper Warrior N43544. I had good intentions of doing practice, but it was just too nice a day.
To view a larger image, click on the picture you want to see. Return to this page by clicking on "Back".
So, I loaded up the digital camara in my flight bag, got a weather briefing, and drove to South Jersey Regional (VAY), to go flying. I had decided to fly first along Carranza Road towards the Friendship Bogs. The bogs were acquired by the state of NJ as the first addition to Wharton State Forest, at, I believe, the urging of Ted Gordon. This area is one of my favorite areas in the pinelands. So I flew over scenic downtown Tabernacle, down Carranza. My first surprise was the juvenile boot camp. I had no idea it was so huge, and actually thought for a second I was lost, because I didn't recognize it. I quickly figured it out (didn't stop for a pic because I could just imagine F-16's chasing me for circling a penal colony...).
In any case, I quickly came upon the Friendship bogs. The first shot is on my initial approach, and in the background you can see the active, modern bogs at Speedwell, and Jenkins. The wild bogs at Friendship are something special! The swamp maple had started to turn.
After that, I flew over towards Shamong to Lake Atsion... The Mullica River was dammed up here to provide power for an iron furnace in the 1700's and later for a cotton factory. It is now a recreation area...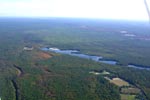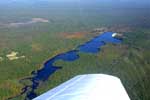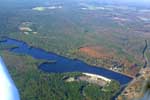 Along the way there were some other sights...
The first was active cranberry bogs in Tabernacle: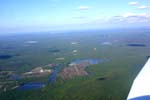 And a combination cranberry bog and blueberry farm in Shamong...