Hampton Furnace from the air
I flew over the area around Hampton Furnace and got a few pictures. There was a strong haze layer so these are not as clear as I would like.
To view a larger image, click on the picture you want to see. Return to this page by clicking on "Back".
The first picture is from about 1 mile west of Hampton Furnace, looking northeast. These are what remains of the old cranberry bogs at Deep Run. The small open area to the right and up is Hampton Furnace, and the small white patch further out is the Juvenile Boot Camp.
The next two show the Hampton Furnace area from the east (looking west) and the second is taken from the other direction. In the first, the ruins of the old cranberry paching house are in the foreground, and the field by the Batsto River canoe put in is on the other side of the river. The slag heap is between them on the east side of the river, but can't be seen from the air.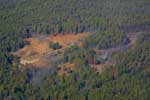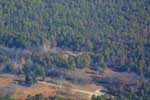 I decided to fly over to the north of Carranza Memorial. The two pictures below show the Juvenile Boot Camp.