Joe's & Chris' Hike on 5/13/2001
I just got a new lens for my digital camera. A 100-400 whopper of a zoom with image stabilizer. This hike was the first time I tried it in the field. Optimal for closeups of flowers, it's not. But that didn't stop me! I've also tacked on a few shots from a hike Jay did on 4/15/01 and one that I led on 5/6/01, both at the Friendship bogs.
To view a larger image, click on the picture you want to see. Return to this page by clicking on "Back".
We wondered up to a clearing and found massive blooms of Hudsonia, a member of the heath family, and sand myrtle. The yellow flower is Hudsonia...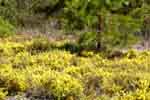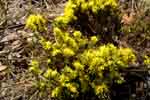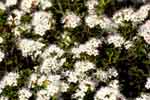 Then we stumbled on a number of pink lady slipper orchids...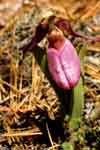 The pitch pines were in flower (and the air was full of pollen).
We hiked into the Mullica River, and here are a few shots from there. The green plant is pickerel weed.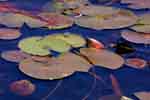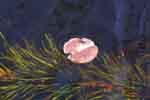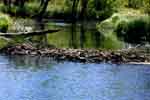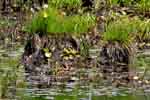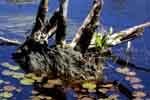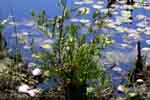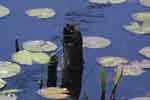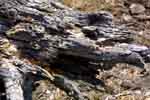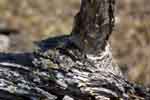 The next pics are from Jay's Friendship Bogs hike on 4/15/01. We were walking a short distance on a sand road when I made the mistake of making a smart remark to the effect of "how come we're on a road?". Jay said something like "Oh. You don't like roads?", and then made a sharp right-hand turn into a savanna, and to get out of it we had to cross a canal. Here's Faye as she (and Nemo Dog) step into the canal. In the last picture, Faye has just stepped into a hole...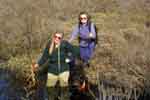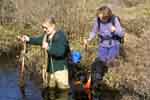 Finally, I led another hike at Friendship on 5/6/01. While walking on a dike, we came up on an immature black rat snake who was sunning himself (herself?). Some time afterward, we went to the monument that Garfield DeMarco put up in the middle of nowhere. The blueberry fields still exist (unfortuenately so does DeMarco, but that's a whole other story) a few hundred yards from the marker, but are heavily overgrown (which did not stop us, of course, from walking through them -- sorry, too thick for pix!).