11/18/00 Exploratory hike to Penn Swamp
It was a great day, sunny, little wind, temperatures in the forties. We started out from Quaker Bridge along the Batona trail until we came to the stream coming out from Penn Swamp. We bushwhacked to the stream and followed it eastward along the northern bank. At the bridge we crossed, and bushwhacked up the southern bank as far as we could. We then went to Penn Swamp pond. Here's what we saw...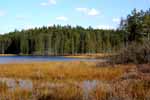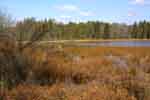 We wanted to see whether there was any way to get around the back side of the pond and then go to the northern edge of the pond. At first the way was a fairly easy bushwhack, and then it became thicker with gobs of catbrier. We were forced, because of how thick it was, and by deep water, to go southwest before we could start going north. The pictures below show the kinds of savanna we had to cross, and the final picture shows the kind of thick brush we bushwhacked through.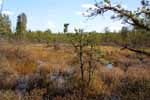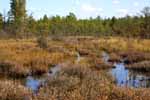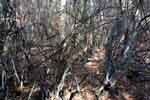 About 1:00 pm we made it through the last of the swamp and had lunch. Here's Joe, Jack, Dennis and Craig.
After lunch, a quick bushwhack took us to a sand road, which we followed to the edge of the cedar swamp. We decided to cross the cedar swamp and get to the fence. The reason for the fence is that the state allowed Penn Swamp to be clear-cut at one time, and when they tried to reforest it, they found the deer ate all of the seedlings. We found a place to get under the fence just so, as Dennis put it, the next time we walked by it we wouldn't have to wonder what was behind the fence. What's behind the fence is thick growth of young (10' - 15') cedar trees and lots of water. We went back under the fence and followed it to Quaker Bridge road. From their we buskwacked for the cars a couple of miles. Here's where our exploration took us.