Friendship Bogs from the Ground
Since I got the aerial photos of the Friendship Bogs from the air the prior Tuesday, it seemed like a good use of a really great sunday, would be to hike in and get some new ones from the ground.
I actually did two hikes -- the first is shown in its entirety in the left hand view, the second shown in two pieces in both views. To view a larger image, click on the picture you want to see. Return to this page by clicking on "Back".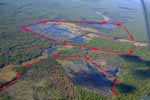 My trusty steed appears below. There are a number of ruined buildings at Friendship. The bogs were abandoned when they were added to Wharton Sate Forest in the 50's, and the buildings were vacated sometime in the 60's. The bridge is over the Featherbed Branch which is one of two streams which feed the bogs (the other is the Tulpehocken Creek).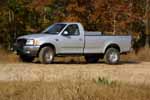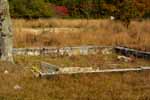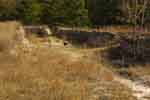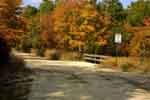 My first hike took me in to the southeast end of the main bogs. The dikes used to be wide enough to drive a dump truck on, but have thickened to the point where some are impassable, and many look like the two below. The abandoned beaver dam is at the very south end of the main bogs.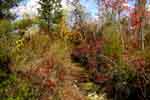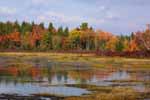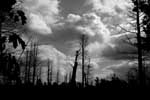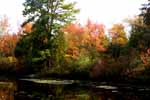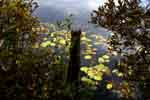 The second part of the hike started about a mile south of Friendship, and I hiked around the two lower reservoirs. There is a network of canals which were used to move around water. Some are large, some small. For those who have yet to come home all bloody from cat brier scratches, I even took a picture to show you what cat brier looks like.